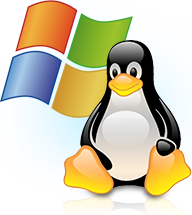 Are you looking for space for your website on the internet? Then Markxman's web hosting packages offer a suitable solution with great flexibility and reliability, at competitive rates.
With a new web hosting from Markxman you can of course register a domain name or transfer your
existing domain to Markxman.
Registration or transfer of a domain name is usually realized within 24 hours after we have received all the necessary forms.
Windows or Linux web hosting?
Windows hosting is slightly more expensive because of licenses, but it offers all the options that you also have with Linux hosting, plus a lot more. For example, all our Windows packages offer standard support for ASP, .NET, PHP, MySQL, MSSQL, ColdFusion, Perl, Python, CGI and Frontpage.
Linux hosting does not have ASP, ASP.NET and MSSQL support, but especially with WordPress hosting it is preferable to Windows hosting. WordPress is not only much faster on Linux, but also offers better use of SEO friendly URLs. Linux hosting can also sometimes be more convenient for other standard packages.
With both Windows and Linux web hosting, you can choose from a number of packages to be installed to get up and running quickly. You can view the packages on the specific pages.