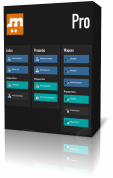 If you opt for our Professional package, we offer a free website for your association as an extra. That
means a free domain name and free web hosting for your association website.
Even if you already have a website, that is of course an option, because switching is not difficult. And afterwards you just have a nice free website 😉
The free website also applies to foundations of which all shooting clubs subscribe to Markxman Online.
Game rules
Valid with a subscription to the Professional edition for a minimum period of 1 year and as long as your subscription with us lasts.
Also valid for a foundation of which all shooting clubs have a subscription to Markxman Online, regardless of the edition.
Only valid for the existing or to be renewed association website or foundation website.
Hosting takes place on our own Linux environment. If desired, Windows hosting is possible at a price of 2 euros per month.
Only valid for one .nl domain name. For other so-called top-level domains (such as .com, .net, .eu, .info) we charge a small surcharge per year, depending on the applicable prices.
Limits
We don't do the furnishing for you. We are happy to help you on your way, but we provide limited support. Of course we do provide maintenance and updates at server level.
Sending so-called bulk mail is not allowed. For example, if you want to send newsletters to your members, use a service such as the Dutch LaPosta. We help you with the necessary DNS adjustments.
Properties
10GB disk space (including mailbox content)
100GB web traffic per month
100 mailboxes including webmail access and 100 mailing lists
10 MySQL databases
unlimited FTP accounts
unlimited subdomains
unlimited number of domain aliases (redirection from another domain name to the desired domain)
If more spacious properties are desired, this is of course possible at an additional cost.
This makes choosing Professional very easy! If you are interested, please contact us.