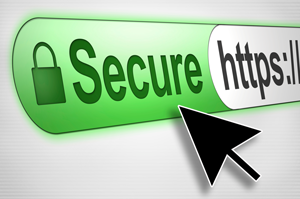 With SSL, the information on your website is sent encrypted, so that your confidential data cannot be intercepted. With a certificate your website is no longer http but https.
Why SSL certificates are important
Encrypted network traffic is very important for security, because all data is encrypted before it is sent. Eavesdropping on that traffic is then in fact impossible. And that gives your visitors and/or customers a familiar feeling. With the most extensive check (EV, Extended Validation), visitors to your website will see a green address bar with your company details. This makes it immediately clear who the domain is. Very important for extra confidence and therefore more turnover.
In the past, certificates were expensive and difficult to install. Today it is different. The cheapest certificates are already available for around 10 euros per year. This will at least secure your traffic. Google also considers a secure connection to be so important that sites that are secured with https score higher in the search results. There is therefore little reason not to take a certificate.
Markxman is an official reseller for SSL certificates and supplies single and multi-domain certificates, with or without domain validation and, if desired, with extended validation (the green bar).
We are happy to help you with the application and installation.