The bar module is available as an extra with all editions of Markxman Online.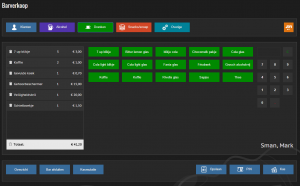 With the bar module you can keep track of your bar sales. Because working with a touchscreen is very
convenient at the bar, the entire module has been made touchscreen-friendly.
You can register all your products in the basic administration of the bar. This is done under different categories that return as buttons in the touchscreen environment. This way you can easily and conveniently classify your products.
The module contains a numeric keypad so that you can enter numbers and amounts. Sales tickets created can be saved so that they can be settled at the end of the day. Payment in cash and via PIN is supported as standard. These are purely administrative transactions by default.
If you actually want a link with a PIN machine, that is possible. We supply a PIN solution that enables pins from the online web environment, complete with cash drawer and receipt printer.