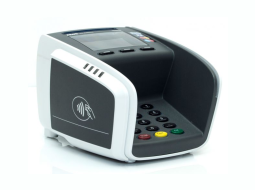 Of course you can purchase or rent an ATM through your bank, which makes it possible to withdraw
money at the bar or when selling ammunition. However, you still have to enter the amounts yourself in the ATM, report the transactions as approved and, if desired, print a receipt in Markxman Online. That in itself need not be a major objection.
If you want to combine PIN payments without hassle, a link with a PIN module is one of the options. Since the license costs for being able and allowed to control an ATM are very high, we have not developed a link ourselves. We use a special solution, which makes it possible to control a PIN machine from the website. A cash drawer and receipt printer can also be connected.
With such a solution, regular debit card payments, credit card payments and even contactless payments are suddenly integrated.
Costs for PIN payments
You pay a one-off fee for using the PIN solution and an annual maintenance fee for the PIN module to our supplier. In addition, you obviously need a contract with your bank to receive PIN payments. Within Markxman Online we do not charge any extra costs for this solution. If you want help with the construction of the system, that is of course possible.
For more information and a price quote, please contact us via our contact form.